Women living in
New York City
Women are often seen as vulnerable and easy targets, and some frightening numbers seem to support that notion. In fact, here are some alarming statistics:
Every 9 seconds in the United States, a woman is assaulted or beaten.
A woman of 21 years of age has a 25% risk of becoming a victim of violent crime in her life.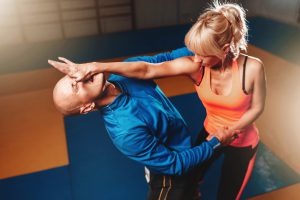 Those grim numbers show that no woman is ever completely safe. A lot of perpetrators choose women as their victims because women are seen as passive and less likely to fight back. This does not have to be so, and women can use this perceived passivity to their advantage. There are many ways for women to protect themselves from their attackers but they must be able to physically protect themselves from their attackers if they ever get assaulted again.
Women Can Protect Themselves
Self-defense is the most effective and straightforward ways women can use to avoid dangerous situations and protect themselves. It's always better to avoid a violent attack than to go through one and attempt to survive it. Women's self-defense classes don't only teach practical and effective martial arts, they also cover numerous ways to avoid and navigate dangerous situations.
Women's self-defense classes offer a wide range of approaches and processes designed to keep women safe at all times. Some of the subjects covered in women's self-defense classes are:
Learning basic self-defense moves will form a foundation going forward and provide self-confidence that that a sense of protection is attainable.
Spotting potentially dangerous situations can help avoid dangerous situations.
Fitness and strength training to be in the best shape to help women protect themselves.
Learning the best body parts to hit for maximum effectiveness.
Simple and effective ways to avoid being attacked.
The best ways to call for help when in distress.
Trusting your instincts can help save your life.
Maintaining a strong body language will present an air of confidence and invulnerability.
Not only that, but women's self-defense classes have some healthy and positive side effects. Participation naturally and organically builds up confidence, strength, awareness, and fitness.