BullyProof & Kids

 Martial Arts Classes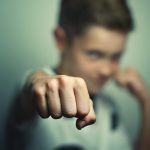 Let's face it, New York is a really tough place to grow up in. No matter what borough you reside in, NYC presents a unique set of challenges to kids and their parents.
NYC's not always the safest place, and children can be especially vulnerable to its dangers. These dangers present themselves in many different ways.
KMI's kids program is fun but is also completely practical by helping kids overcome real world challenges, day-to-day difficulties and prevent harm from everyday occurrences like bullying, mugging, fights, drugs. It can also help improve low self esteem, lack of friends and social skills.
Many of the instructors have kids themselves or work with kids on a daily basis, and are passionate about kids and issues involving kids, like stamping out bullying from schools. Many Krav Maga practitioners and instructors have been victims of bullying themselves, so it is an issue very close to our hearts.